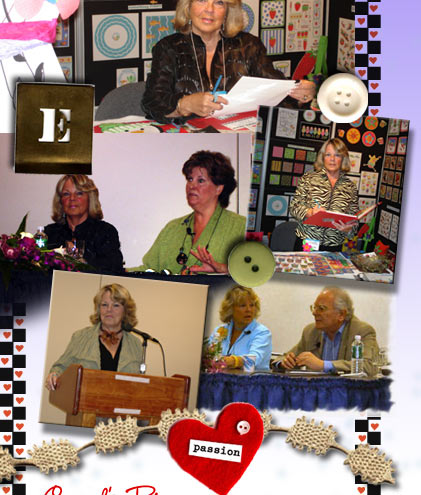 Carol Eldridge is a graduate of the Massachusetts College of Art in Boston, MA and holds an advanced teaching certificate from Salem State College. She has been licensing her artwork to major manufacturers for over 20 years, while exhibiting her designs at the Surtex Design Show in New York City almost since its inception. Carol served on the show's advisory board for George Little Management for more than 12 years, and has been a featured speaker at seminars on Art Licensing, Branding, World Wide Web, Marketing and other topics at Surtex for 15 years. She gave a seminar at the Craft and Hobby show in Las Vegas on the basics of Art Licensing and has exhibited at the Brand Licensing show in London, England. Carol's work has generated millions of dollars at retail, working with some of the leading manufacturers in the United States: Department 56, Oneida, Silvestri, Colonial Candle, Boston Warehouse Trading Co., Current Catalog, Giftco, Springs, Barth and Dreyfus, Papel Giftware, Treasure Craft, Eisenhardt Wall Coverings, Kurt Adler and dozens of others. She has also done proprietary product development for such retailers as Target, Bed, Bath and Beyond, Wegmans, Steinmarts, and Saks on 5 to name a few.

Carol's ongoing licensing business brings new designs and products to the market today. She continues to develop products and designs for manufacturers while assisting other designers with her Art Licensing consultation business.

What makes Carol's consulting so dynamic and successful are the years of practical experience in the business, her highly attended seminars at Surtex, years of public speaking, strong business acumen and her ability to strategically market her work. She shares her valued tips and techniques when consulting with other designers.

You will learn Art Licensing fundamentals from a designer who is licensing her artwork…..more than just theory and rhetoric, this is practical know-how from an active artist. Art Licensing at a grassroots level – hands on – "been there-done that", practical and comprehensive advice from a seasoned professional.
Carol's Art Licensing consultations are both interactive and informative, based on her 20 years of experience as a licensed designer. Carol is able to teach you the basics of Art Licensing, how to develop successful marketing strategies, how to prepare your artwork for presentation to a manufacturer, negotiate the deal, spot the trends, communicate effectively, research companies and take your creative efforts to a whole new level.
COMPREHENSIVE–CONCISE–CREATIVE!!
Phone consultations
One on one consultations
Seminars, workshops, power point presentations
Portfolio evaluations
Strategic marketing techniques
Contract negotiations
Trade show exhibitions
Copyright information
Website, logo, promotions, portfolio
Brand identity
Trends and retail markets
Design and product development
The "Business" of art
Fees and details - contact me
TESTIMONIALS
" I made my first sales call using the tips you gave me-and it went GREAT!
It does take some prep, but it is much, much, much more effective than the things I have been doing.
Your idea worked like a charm, how's that for an endorsement!"

---Brian Rightsell
Kelly B. Rightsell Designs
"I felt so much better after speaking with you… you are an Art Licensing guardian angel."
---Anne Leuck Feldhaus, artist
"Carol and I have worked together bringing her salable art and product concepts to various manufacturers for almost 15 years. We had a huge success at Barth and Dreyfus with a kitchen textile and tabletop program using Carol's "House Blend" coffee art program. Carol is one of the few creative people in the Art Licensing industry who not only is a talented artist but also a creator of the finished 3-D product based on her designs."
---Steve Harris
Harris-Sachs LLC
"Carol is a joy to work with. She is always gracious and very professional. She is highly respected by the Surtex show team and the industry as a whole. Her last seminar for us was a huge success with rave reviews. 99% of the audience gave her an exceptional rating for both presentation and mastery of the topic and her ability to answer the audiences questions."
---Kurt Mangold
Programs and Events Supervisor
George Little Management LLC
"Carol is one of my favorite licensors to work with. Not only is her art eye catching, trendy, bright and beautiful, it has such a fun quality about it that the products just jump off the catalog pages (and in the direct mail business, that is extremely important.) The art just sells itself with it continuing fresh appeal."
---Dana Grignano
Art Director
Current Catalog